Bridging the Gap: Combined Benefits of 3D Laser Scanning and BIM
As we near the end of 2021 and look forward to the landscape of 2022, we see that "infrastructure" is a key buzzword and production work in the architecture, engineering, and construction (AEC) industry shows no sign of stopping. If anything, the needs of production demand versatile and effective techniques from architects and builders. Production deadlines tend to be tight, and builders need to work with the most reliable, accurate, and transparent data they can get their hands on. This data comes from precise 3D laser scanning, building information modeling (BIM), and the skilled technicians that do this beneficial work.  
What is Building Information Modeling (BIM) and How Does it Pair With 3D Laser Scanning?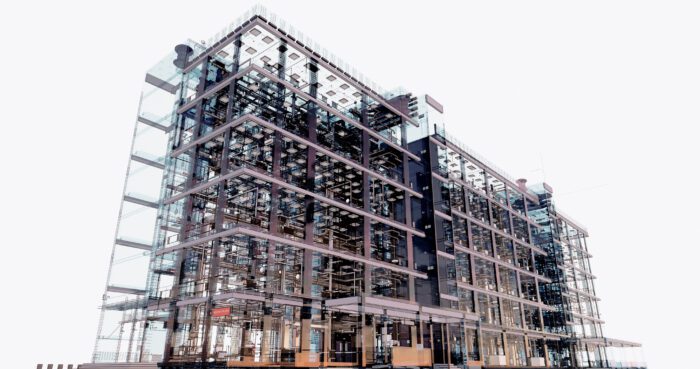 If you're new to the process of 3D laser scanning and 3D modeling, you may be asking yourself, "what exactly is BIM?" According to innovative building software firm Autodesk, BIM is a "holistic process of creating and managing information for a built asset." They also state that BIM "integrates structured, multi-disciplinary data to produce a digital representation of an asset across its lifecycle, from planning and design to construction and operations." These building models supply a shared resource for all stakeholders involved in the project, and you can access it from anywhere.  
The concept of BIM software and hardware first became prominent in the 1970s but, due to the high cost, it didn't become commonplace until the early 2000s. Like BIM, 3D laser scanning dates to the 1960s but didn't see widespread commercial AEC use until the 1990s. Even so, 3D laser scanning has taken off in the construction world within the last decade. Once these two advanced technologies were accepted for everyday use, builders began looking at projects differently.  
When we look at how BIM and 3D laser scanning work together, a simple analogy is a peanut butter and jelly sandwich. Peanut butter and jelly can be eaten on their own with no issues (and are pretty tasty), but once you put them together, that's when the magic happens. Alone, 3D laser scanning and BIM can provide teams with excellent information, but the true value add is when the data is combined. 3D laser scanning gathers millions of data points that measure every inch and crevice of your project space. When turned into a comprehensive BIM model, it gives you and your team a fully realized look at the area as it stands today. TrueScan's veteran team of scan technicians and modelers can make this situation a reality for virtually any project.  
Three Benefits of Pairing BIM with 3D Scanning
In truth, there are many benefits of BIM and 3D laser scanning, primarily when used together. For our purposes, we're going to focus on three key benefits.  
Enhanced Visualization, Communication, and Continuity
Let's face it, 2D drawings leave too much up to the imagination and could be interpreted incorrectly. By coupling the extensive field documentation of 3D laser scanning with the process of BIM, project team members can see every angle of the space and know exactly what they have to work with before the project begins. 3D laser scanning data and maneuverable BIM models help eliminate guesswork before it can cause problems. Once the project starts, every team member sees the same point cloud data and model details of the space, keeping communication concise and accurate.  
Cost-Effective and Reduces Rework
Through 3D laser scanning and BIM, all aspects and angles of a space are carefully measured and documented before production. Team members then precisely know how all parts of a project look and fit together before implementation. Knowing every measurement and angle helps decrease pre- and current production delays by allowing the project manager to order accurate material quantities before the project begins. Having all this knowledge ahead of time gives construction managers, contractors, and anyone involved with the project the opportunity to adapt to changes and anomalies as they work and not after they happen.  
Simplified Pre-Fabrication and Construction
3D laser scanning accurately measures every aspect of a room, space, or area without the need for an outdated 2D plan or blueprint. Taking this data and constructing a comprehensive BIM model can then be used to create drawings and plans for manufacturing and modular construction. As construction and technology adapt and evolve, 3D scanning and building models can be a fast-track for gathering necessary materials.  
How TrueScan, 3D Laser Scanning and BIM Can Strengthen Your Project
As we know, some of the worst problems that plague construction projects are misalignments, miscommunication, and painful, costly reworks. The last thing a project needs is a misstep found too late due to incorrect measurements that set the project back six months. TrueScan's advanced laser scanning technicians and 3D modelers can alleviate all these stresses and problems. Investing in detailed field documentation of your project and converting it to a manageable 3D BIM will help you know more, risk less, and build better. That's TrueScan's goal. No matter the size or complexity of your project, TrueScan provides you with the information you need to complete your project on time, on budget, and virtually stress-free. We will navigate you through all aspects of your data and get you on the right track from the beginning. Don't hesitate to call a member of the TrueScan team today and see how we can help.