3D Modeling Services
Get ahead of your project by allowing us to produce an accurate Revit model of your building. We develop 3D digital twins directly from our laser scan data. All of our Scan-to-BIM modeling is performed in-house by our own degreed architectural and engineering professionals.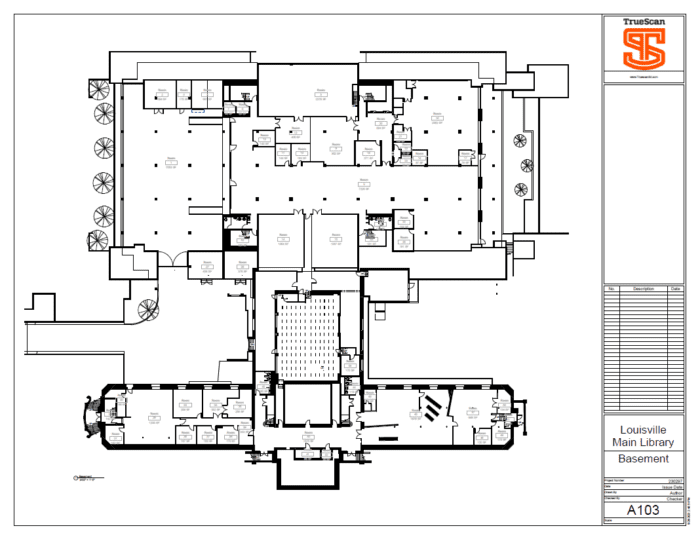 How Does 3D Modeling Work?
Once 3D scanning or photogrammetry is completed by our veteran surveyors, our experienced BIM (building information modeling) technicians pull together the millions of data points to create a highly detailed and comprehensive point cloud or model of your space or building. As a BIM company, TrueScanTM knows the ins and outs of how to create a visual representation of a space, no matter how large, small, or complex. Through this model, virtually any point or area in the building can be measured and reviewed. The measurements pulled from the scans and model allow you and your team to see how your project area stands in real-time. Our team is available every step of the way to make sure you understand and are able to use the provided information in the most efficient way possible. Contact us today to learn about 3D modeling services.
1
TELL US YOUR NEEDS
We start with data you provide or conduct a 3D laser scan.
2
DESIGN ACCURATELY
TrueScan delivers a pristine model in CAD or Revit.
3
LEAN ON US FOR HELP
Training ensures you design confidently.
4
SUPERIOR RESULTS
Eliminate errors, change orders and wasted time in the field.
What Value Does 3D Modeling Provide?
Discover unknowns
Simplify complex environments
Reduce change orders
Manage project risk
Maintain project schedules
Work in Revit, CAD, or the software most familiar to you
TrueScan starts every model with 3D scanning or a point cloud you provide. While other 3D modeling companies may start with measurements taken from a tape measure, TrueScan always starts with 3D scanning. The result is a HIGHLY accurate model, versus a model that may contain inaccuracies before design even begins. Unfortunately, true BIM companies are still rare in the AEC industry, and Revit modeling services are not yet standard practice. Being a veteran BIM firm, TrueScan includes flexible and versatile modeling technicians that are able to easily tackle even the most complex jobs. TrueScan's highly accurate models capture what you didn't know you needed — giving architects and engineers confidence in their designs every time.
Our 3D Modeling Services Are Located in The United States.
Unlike some 3D modeling companies, we never outsource our Revit modeling services to foreign companies. All of our technicians live in the United States and work closely with each other. As a result, we maintain precision and control, while many 3D modeling companies search for a cheaper alternative. In addition, if you use our BIM services, we'll give you the training to ensure you know what to do with your data. We are able to provide you a 3D model in virtually any file type needed, making sure you have all the information you need in whatever way is most accessible to you. We want you to use your model confidently, for the best experience possible.
Our Revit Modeling Services Take Your Point Cloud to The Next Level.
While we offer 3D scanning services and are happy to scan your building, we'll also work with your existing point cloud if you already have one. Our BIM services take your point cloud and turn it into a precise and accurate 3D model. That model is the basis of design and replaces outdated blueprints and AutoCAD drawings as a starting point for all architectural and engineering designs. The model provides the "linework" that enables the measurement and interpretation of spaces. Need some training on how to use the model you've just received? Don't worry, we can help with that too. Need your model in software other than Revit? We can also provide Catia, Tekla, Rhino, or other modeling services if you prefer. TrueScan's team does what it takes to make sure you and your team can design and build in the most efficient and time-sensitive way possible.
See some of our successful projects